Here goes an experiment. Because it strikes me that all-too-often we only get to hear about adventure plans when they are unveiled / announced / launched / released, and above all… final. The reasons for that are valid – you don't want to look like a prize banana after all – shooting your mouth off and then not doing what you said you would. But it always seems a shame that the journey to the start line of an adventure should appear so effortless.
And so this time, I'd like to roll a little differently. To share with you the jagged and jumbled mess of musings that unfold before things are set in stone. Because, like anything else in life it ain't plain sailing. Plans are made, dashed, changed, turned upside down, and dashed again before finally, hopefully settling at something that definitely (possibly) maybe floats the adventure boat. Here's the story so far…
IT TAKES TWO OF US (BUT WE CAN MAKE IT IF WE TRY)
When thinking about the next big trip, I knew I didn't fancy another adventure alone, not yet anyway. The levels of isolation in New Zealand tipped me just the wrong side of lone wolf and I have learned enough about my own company, and indeed my own mind, to last me a good few years yet. Plus, I'm intrigued to see what life is like on the road with another chick at my side. How does that dynamic work? What happens when we p*ss each other off? When she wants to go on, and I want to stop? When I'm having a tantrum and have to consider her feelings too, what happens then?
Learning how to live and manage a relationship in such close confines with another person can only be good for the soul. I won't always get my own way, I'll have to compromise and above all to recognise that not everyone sees the world the way that I do. There's an air of buddhism about a joint journey, and it's something I'm keen to explore.
So when, after months of contemplation (possibly about a week), I came up with the idea to travel the length of South America on a Giant Scooter (yes I said a Giant scooter), I knew there was only one girl who I should call. A girl that would drop everything and say yes in a heartbeat: Faye Shepherd.
Some of you might remember Faye, who I first met during the New Zealand run. Faye was sat at home watching my run unfold when she came over a little bit inspired. She then negotiated some time off work, hopped on a flight to NZ and cycled the length of it. Boom. I love a girl who takes action, and so it's no surprise that we have been friends ever since.

BONKERS – POSSIBLE: A SLIDING SCALE
When settling on an adventure, I always see it (in my minds eye) as a sliding scale. At one end, is the word 'BONKERS' in big capital letters. Caps are important, because, well, bonkers is a proud word. The world needs more bonkers – just ask Dizziee 'double e' Rascal. On the other end is the word: Possible. Possible is small and less assuming than bonkers, but equally important in the proceedings.
Following the Eureka! scooter plan moment, I decided to seek out some expert advice. Experts are important, because bonkers is one thing, but his friend Stupid? Well that's entirely another. No one likes Stupid. Stupid doesn't get an invite to the adventure party.
Naturally, my expert friends, cycle tourist extraordinaries the 'Pikes on bikes', told me that I was bonkers. No change there then. But they also patiently listened as I explained how I hoped that doing a journey by giant scooter would serve to inspire the minds of some little kiddywinks. Kiddywinks who use their own scooters every day to get to school. And the Pikes (although not on their bikes at this particular meeting) managed to keep a straight face, even when most of my answers to their logistical questions were: '"I don't know yet."
How far can you go in a day? I don't know yet

How do you plan to carry enough water across the Atacama desert? I don't know yet.

Can you Scoot uphill? Yes of course! Oh no, wait, actually – I don't know yet.

How will you carry all your gear? I don't know… yet.

What is my favourite colour? Okay that wasn't one of their questions, but had it been I would have taken a Monty Python esc guess.
We agreed there were some 'seasonal challenges' and that perhaps doing the entire length of South America in 6 months was out of the question, but the basics of the idea was still a go-er at least. So before getting all excited and allowing myself to become fully immersed in daily Duolingo Spanish lessons, I accepted that I needed to answer some of those other hideously sensible questions. So I called up the gang at Kick Scoot UK and arranged a tester trip on the giant beasts.
TESTING TIMES
With scooters in tow Faye and I hauled our asses to Wales, where we'd booked in for 2 nights at he Dolgoch Wilderness hostel. Why? Because according to the Pikes on bikes, the forestry roads around the Dolgoch hostel were about as close to roads in South America as we were going to get. Who knew? I can see the Visit Wales slogan now "Sod South America, come to Dolgoch instead."
For 2 days we gunned it around the tracks of the Tywi Forest. And by Jove it was fun. The sun was shining (as it always seems to be when I visit wales), the birds were singing and the scooters are just about the most fun you can have on two wheels whizzing down hill. The centre of gravity is just that bit lower than a bike, so it feels more like skiing than cycling downhill. We scooted for hours, to the pub, and even rescued two sheep from trapped brambles and fences, at which point we dubbed ourselves 'Scooter-heroes'. We didn't even freak out when we bounced over a cattlegrid and Faye's back wheel casually fell off. 
By the end of the two days, our calves, bums and quads ached gloriously. We were sun-kissed , smiling, exhilarated. There was only problem. Kick Scooters do not go uphill. We thought perhaps we'd get away with a small incline at least, but even that reduced us to walking. Of course that wouldn't be a problem if South America were flat, but those Andes, I hear they're rather 'hilly' at points. And so travelling on a machine that doesn't go upwards has the potential to be a deal-breaker.
THE FUN GRAPH
The bonkers-possible sliding scale now familiar in your minds, I'd like to introduce you to the fun-graph. See below. You'll note that there is a strong correlation between 'bloody hard' and 'bloody good fun', unfortunately there is also an optimum point, where it tips over the curve and becomes more hard than it is fun. This is where scooting uphill had left us. The flats and downhills were just about too much fun to be legal, but the ups…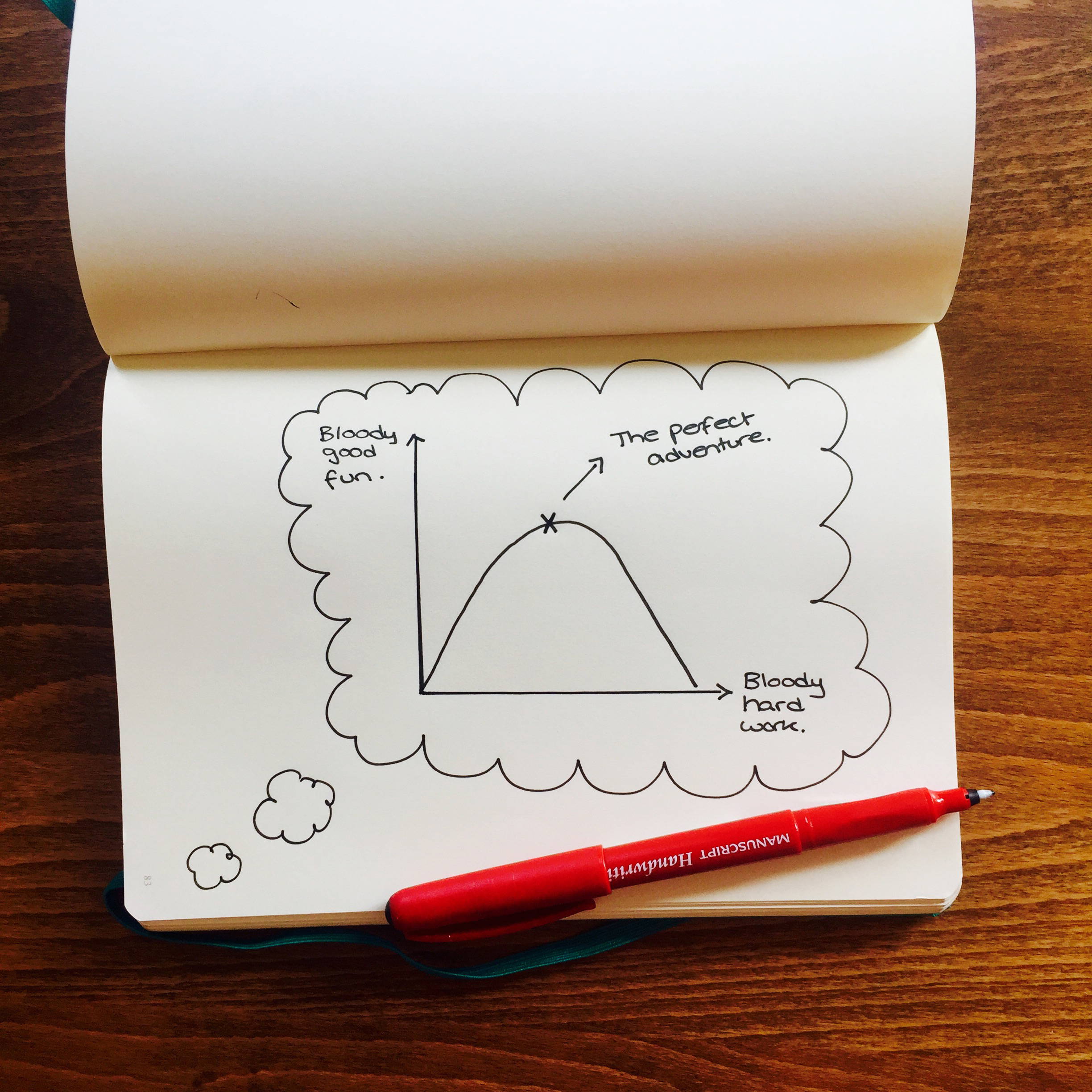 We were completely gutted. But as I chimed to Faye on the second day – "This is, like, such a massive first world problem. We can't take our giant scooters on the route through South America that we wanted to. What are we to do with our lives now?" The world may end. And then again, it may  not. We will simply return to the drawing board, put some polyfilla in our dented pride and unpick the important elements of the plan from those which are flexible. Which, If I'm honest is all of it.
Most importantly of all, I wanted to share this with you because this plan was a curiosity. And curiosities are to be chased until the sliding scale gets too far from the possible, and you stray too far from bloody good fun. Then you simply have a Diet Coke break, pick another curiosity and chase that one instead. Because one of them will come up trumps. That's just basic maths.
So what now, you ask? And to that I reply… I don't know yet.
Until next time,
McNuff out xx
A gigantic thank you to our friends at Kickscoot UK for loaning us some scooters for the test – if you're looking for a new hobby / fun way to travel – these guys are your best bet.
And also thank you to the Pikes on Bikes – for indulging our bonkers and telling us where to find a little piece of South America in the UK.
For a full gallery of images from the testing-times, head here