Running the Length of NZ
ADVENTURER / SPEAKER / MISCHIEF MAKER
January 12th, 2015: I set off from Bluff, New Zealand to run 1,911 miles along the Te Araroa trail.
Alone, unsupported and with all my gear in a 14kg backpack, I travelled through New Zealand's backcountry for 148 days, scrambling through forests, along ridge-lines, over mountain passes, along beaches and across swollen rivers. Running up to 52 kilometres in a day, I slept wild most nights, and was taken into the homes and hearts of the kiwi people in between.
More about my Visit
Along the way I visited schools and community groups – speaking to over 4,000 kiwi kids about adventure and the great outdoors, and raising funds for The Outward Bound Trust to send youngsters on adventures of their very own.
If you've arrived at this page on the hunt for information, and are thinking of planning a running adventure yourself. You'll find a number of questions and answers for the budding adventure-runner compiled here: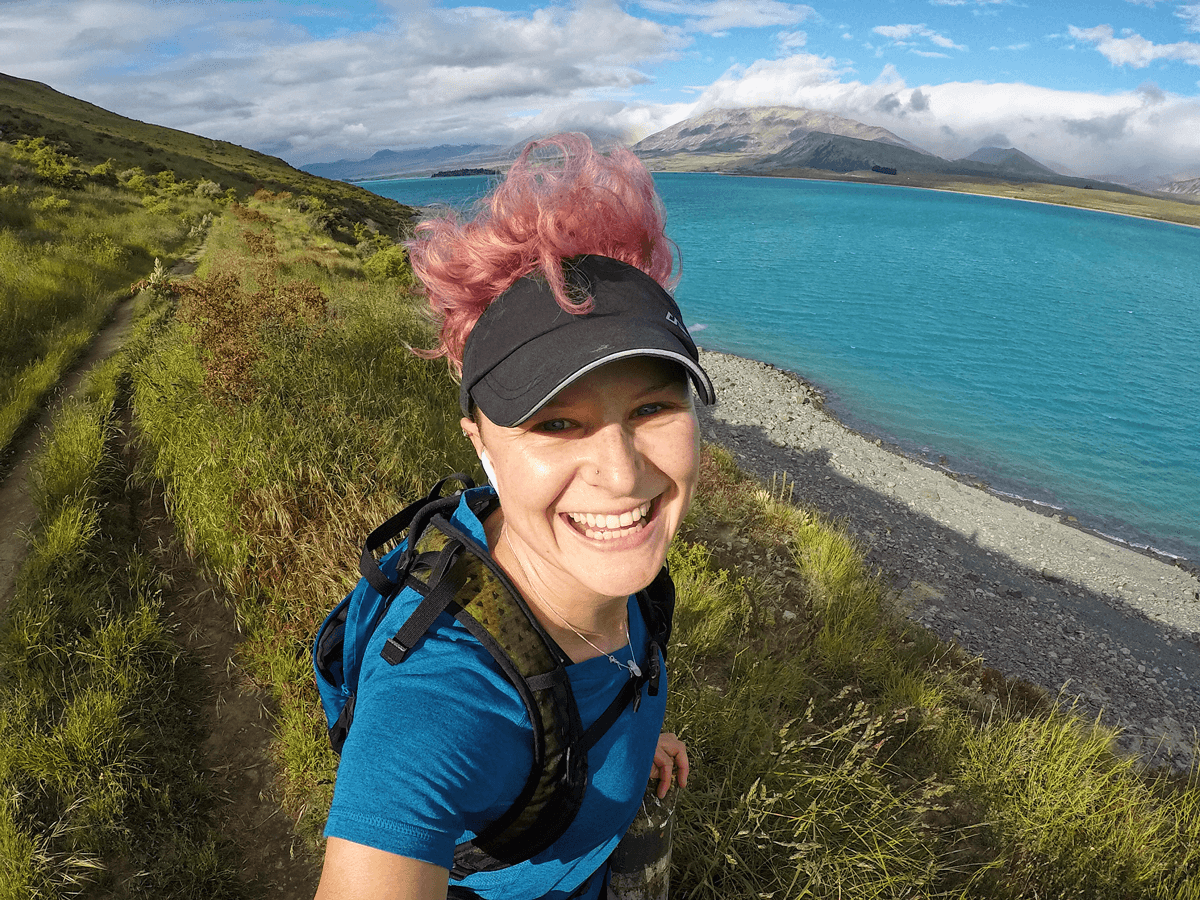 Weren't you Scared?
Yes, most definitely yes. But life is far too short not to wet your pants in fear every once in a while. I cried. I laughed. I was elated, exhausted and humbled by Kiwi kindness at every turn. Now that's livin'.
How far did you run per day?
The final route – 1,911 miles on the Te Araroa trail
I averaged 15 miles per day in the South Island, and 20 miles per day in the North. Here and there I stopped to chat. I like a chat, after all. And this journey wasn't about records or speeds, it was about the people and the places. And people and places demand time.
Can we hear more?
You jolly well can. Here's four ways:
Speaking: Book me in to tell tales to your kids, even the big ones who work in offices.
Read the book: A No.1 bestseller. 100,000 words of honesty and fear-bashing. Available on Amazon here. 
If you'd like a personally signed copy of the book, you can order one here.
Read all about it: There's a host of interviews from Women's Running, The Discovery Channel, Runner's World and others in the press section.
Re-live the journey: The highs, the lows and the characters I met along the way. All in my own words via the blog.
Pants of Perspective
"A thrilling, coming-of-age journey that will make you yearn to go on your own adventures."
– RUNNER'S WORLD –
Anna was never anything like those 'real' runners on telly – all spindly limbs, tiny shorts and split times – but when she read about New Zealand's 3,000-kilometre-long Te Araroa Trail, she began to wonder… perhaps being a 'real' runner was overrated. Maybe she could just run it anyway? 
The Pants of Perspective is a witty, colourful and at times painfully raw account of a journey to the edge of what a woman believes herself to be capable of. It is a coming-of-age story which will lead you on a roller coaster ride through fear, vulnerability, courage and failure.