Hello, I'm Anna
ADVENTURER / SPEAKER / MISCHIEF MAKER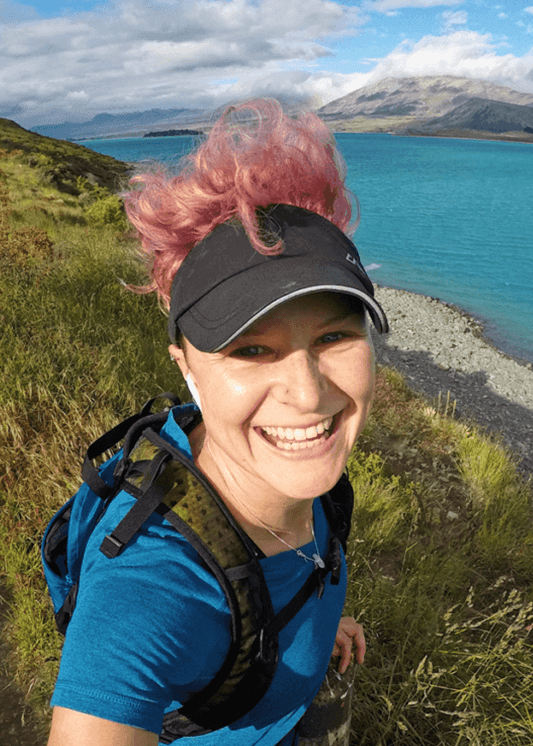 A Brief Summary
Well howdy do – I'm Anna, a British born adventurer, motivational speaker, influencer and author. I was recently named by Condé Nast Traveller as one of the 50 most influential travellers of our time, and by the the Guardian as one of the top modern female adventurers . I am also proud to be the UK Ambassador for Girl Guiding, and the co-founder of Adventure Queens; the UK's fastest growing women's adventure community.
I'm best known for my recent attempt to run the distance of 100 marathons through Great Britain, in my bare feet. 
I get my kicks by travelling the world on long, human powered journeys, and in sharing those journeys with others. When not running up mountains or sleeping in the wild, I encourage others to grab on to life (non-scientific term), and speak and write about the importance of adopting a growth mindset (scientific term), in everything we do. I believe that there's more strength and magic in each of us than we will ever know – adventure is my personal way of unlocking that. 
"With a background in psychology and a career as an elite athlete under my belt, I'm fascinated by the powerful and delicate relationship that exists between mind and body. I have an insatiable thirst for exploring the limit of human potential, and in better understanding the (often misunderstood) feelings of fear, self-doubt, vulnerability and courage. You can read more about what I believe, and how I help others fulfil their potential"
More about me
The daughter of two Olympian's I grew up in a family where the pursuit of physical and mental excellence was encouraged. Seeing the respect and admiration that my parents received led to me harbouring ambitions from an early age to be an Olympian myself.
As a middle sibling sandwiched between two brothers, I could often be found down the local BMX track, up to my armpits in mud or playing football in the local boys' team. Growing up, I simply did what the boys did because it's all I knew. By aged 16 I'd moved on from football, and taken up the sport of rowing, where I went on to represent Great Britain. During my time in the Great Britain squad, I became a World Champion at the University Games in 2006, and won a Bronze medal at the 2007 European Championships.
Dogged by injury in my twenties, I made the difficult decision to retire from the sport and to let go of my Olympic dream. I then embarked on a new life as an adventurer – darting around the world on the hunt for new and exciting endurance challenges.
MY ADVENTURES
Challenges to date
Cycling the 50 States
In 2013 I wheeled my way, solo and unassisted, 11,000 miles through each and every state of the USA. I visited schools along the route and raised £11,000 for Global Charity Right To Play.
You can read all about the saddle-based shenanigans in a book I wrote about the journey here
Running the Length of NZ
For 2015 I switched to a simpler mode of transport and spent 5 and 1/2 months running 1,911 miles along New Zealand's Te Araroa trail. Unsupported and with all my worldly possessions in a 14kg backpack.
I visited local schools en route and raised £7,000 for The Outward Bound Trust – to give kids in the UK and NZ a shot at adventures of their very own.
Read all about it here in the bestselling book – The Pants Of Perspective.
Cycling the Andes
In October 2016, I teamed up with an adventure Amiga, Faye, and began a two-woman mission to cycle along the spine of the largest mountain range in the world: The Andes. By the time we returned to the UK in April 2017 we had pedalled through some of South America's most remote and inhospitable regions and ascended over 100,000 metres on a bike – more than 11 times the height of Everest.
Earlier Adventures

Yikes. I'm not a fan of trumpet blowing, but seeing as you don't know me from Adam, here's a few other things you might like to know about the early days. I may quiz you on this if we ever meet. Just kidding. But, seriously – pay attention. 
I started playing football aged 6 in the boys league, and wound up playing for Wimbledon Ladies FC

Thanks to 11 hours on a course in Regensburg in 2011, I am an Ironman.
I've run 64km over, and swam 10km between 20 Swedish Islands as part of the legendary OTillO.
I used to have large biceps. I won a Gold medal in rowing at the World University Games in 2006, and a Bronze Medal at the European Championships in 2007.

I have enjoyed the delights of sleep deprivation at the Adidas 24 hour trail Run

I left 8 of my toenails on the Race to the Stones course, during a 100km trail run in 2014.

I am a water baby. I've swum my way down The Dalmation coast, Croatia (36km), through the Greek Cyclades (38km) and around The British Virgin Islands (40km).