Cycling the Andes
ADVENTURER / SPEAKER / MISCHIEF MAKER
In October 2016 I saddled up on a bike (called Bernard) and set off as part of a two-woman team on a mission to explore some of the most beautiful and remote areas of the Southern Andes.
Check out the video for a mini-montage and an idea of what life was like on the road.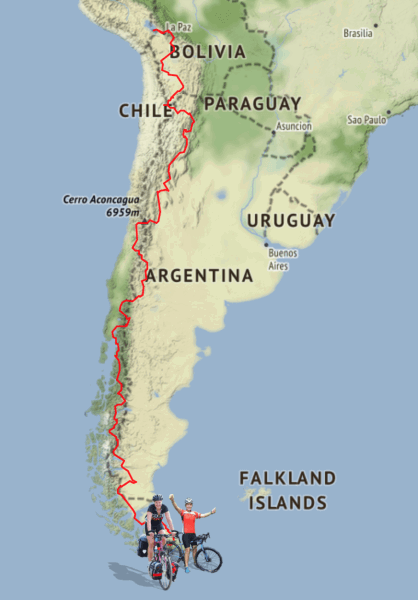 Side by side, my friend Faye and I spent 184 days pedalling our way 5,500 miles through Bolivia, Chile and Argentina. From the bustling city of La Paz, all the way down to Ushuaia – the last sizeable chunk of land before you reach Antarctica.
Far from taking the shortest, most direct route (that would rather dull now, wouldn't it?) we sought the mountainous course possible. By the time we returned to the UK in spring 2017 we had ascended over 100,000 metres  – equivalent to 11 times the height of Everest – on our humble bicycles.
Each night we slept wild in our tents, wherever we could find a spot flat enough or sheltered enough to pitch them. 70% of the journey was on off-road dirt trails which led us up and over mountain passes at high as 5,900 metres in altitude, past crystal clear glaciers, through volcanic surrounds and alongside alpine lakes. We burrowed deep into sleeping bags in temperatures as low as -20C, endured dog bites, 50 mph cross-winds, running out of food, bike crashes and lovely bout of gastroenteritis. But we wouldn't have changed it for the world. It was life at it's most raw and most rich – just as it should be.