Crikey O'Riley. There's now just one day to go until I take my first steps onto the Te Araroa. I'm sitting in my friend's Auckland apartment, looking out over Mission Bay. This afternoon I'll catch a flight to the South Island for
the Journey to Bluff.  Next time I pass through Auckland I'll smell mostly of shrubbery and look decidedly more feral. I'm thinking Forest Gump meets Stig of the Dump, with a side helping of Robinson Crusoe.
An extra layer to the cake
You all know I'm hugely passionate about using my adventure-jaunts as a platform to inspire kids to get outside, and get exploring (and if you didn't know that, then you do now – magic). Memories of excited little faces listening to tales from the road, and the endless 'ooooing' and 'arrrraring' at gadgets spilling from my oversized pack, are what get me out of the tent on even the darkest days. I'd always intended to place an even greater emphasis on that mission for this journey, and school visits are the main reason I'm taking 5 months to travel through a country that could be hop-skipped in almost half that time. But I've now officially decided to go supersize on this trip's ass. To see if I can use the run as a direct way to give some kids the chance to go on an adventure of their very own.
I've partnered with The Superhero Foundation, and (I could be biased) but we've come up with a rather good idea. I'll set off tomorrow with the with the aim of giving 60 disadvantaged kids in the UK the opportunity to go on a life changing outdoor education course. The outdoor learning programme we've chosen will connect the outdoors with education in a way that has real impact. It'll help the kids become more confident and capable at school, college and at work, and above all, give them a shot at an adventure – when they wouldn't have otherwise had the chance.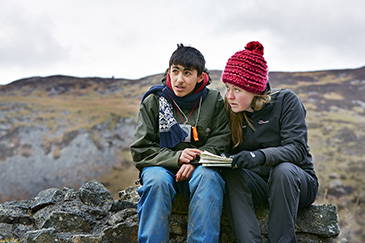 The more money we manage to raise through this journey, the more kids I can send on that course. And the cherry on the cake? I'm going to be right next to them on as they learn, once I'm back in the UK. I can't tell you how ruddy happy I am about it.
If this gets you feelin' all warm n' fuzzy and you'd like to throw some spondoolies in once I'm underway, you can do that here. Or if you're screaming 'Heck yeah!!' at the top of your lungs (who wouldn't be) and you'd like to do your own challenge in the next 6 months as a fundraising off-shoot for the foundation, well, I might just have to find you and give you a massive high-five and a hug all at once. And find you I will.
If you happen to be reading this and are a Kiwi, don't be thinking I'm not going for some give-back NZ side too. I'm working on how to replicate the outdoors education goodness down-under as well. Deets on that one to follow.
Back to the here and now…
The Fear Factor
I have a far healthier relationship with fear this time around. In fact, I'd almost forgotten to be frightened until I
actually left the UK. Then again, what is there to be frightened of, really? For the most part, fear makes no sense. The things you're frightened of never pan out as they appear in your imagination (that would make you
psychic after all). And the instances which are actually scary, occur with almost little or no warning. And when they do, you're so busy dealing with them, that you're a little too pre-occupied to be frightened. So Really, and if you think about it logically, fear only exists in your imagination. Get it? Got it. Good.
That said, I'll level with you – I am absolutely wetting myself. More so than the US ride. The number of unknowns on this journey are just that little bit greater. Am I worried I won't make it? Yes. Do I have concerns that running with a backpack is the most stupid idea ever? Of course. Do I wake up at 2am wondering whether I'm going to wind up stranded and alone on a high mountain pass? Naturally. But here's the thing. I would always rather live my life at the brink of failure, than in the comfort of assured success. And so to the brink I'll go.
So, how am I feeling, right now?
My stomach is doing summersaults. The only way to describe it is like I'm standing on the edge of a a gigantic river gorge, wearing one of those Red Bull style squirrel suits (other brands are available). I look good in it, naturally. In fact I'm thinking I might wear it more often. The important part being that I'm about to hurl myself off of that edge and surrender to a turbulent and unpredictable swoop through the beautiful landscape below. I feel sick with nerves and am insanely happy all at once.
As one of my favourite speeches from Jim Carey goes:
"Life is about telling the Universe what you want, working towards it, and letting go of how it comes to pass."
The Universe has been notified. I wish to go on a big fat hairy balls-out no holds barred adventure, and to pump as much possible goodness back into the world along the way. Now, all that remains is to let go. To zip up my suit, take the deepest of breaths, and to jump.