I'd like to introduce you all to Rody.
We've met so many friendly people in Argentina, but most of our interactions are fleeting. A little hello, a goodbye, a brief chit-chat about where we're from – largely due to our limited grasp of the language, that's usually as far a we get. This man right here, Rody – he took things to a whole new level.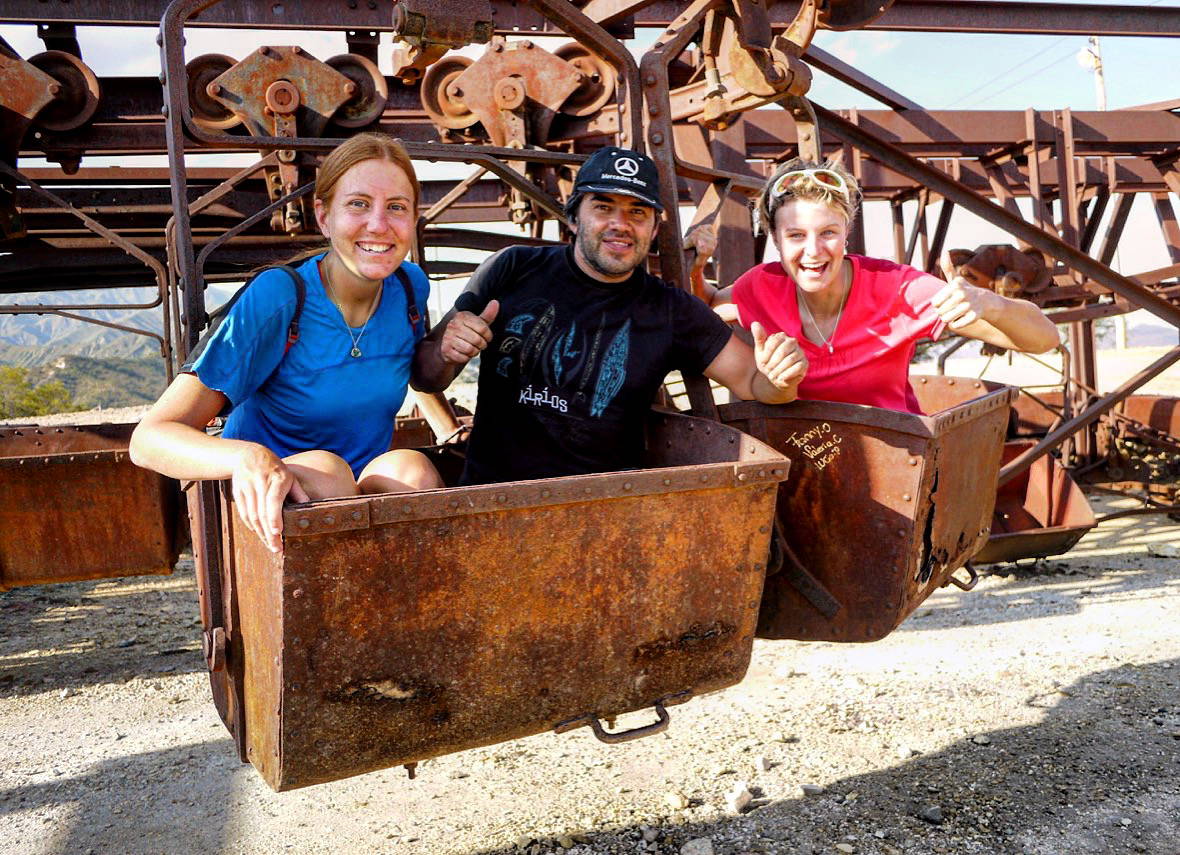 Rody owns a small restaurant with lodging called 'El Viejo Molino' (The old mill) in the backstreets of Chilecito. Tucked away in a quiet corner of the city, the entrance hidden beneath the bows of several large trees. Above the restaurant are two bright rooms with squishy beds and hot showers – both of which Faye and I have hugely appreciated throughout the short stop here.
Rody was patient with us from the start. He greeted us with two icy bottles of water, slowed his Spanish down so that we could grasp the odd word, took an interest in Bernard and Gustavo (the bikes), sat with us at dinner and explained why the steak he'd just served up tasted so darn delicious (2 hours soaked in milk, apparently) and then even gave us a discount on our bill.
'Do you want to go up the mountain?' He asked yesterday afternoon. 'Oooo yes, we like going up mountains.' I replied. 'Errr, which one?' I asked, knowing we were surrounded by dozens of them. Our man Rody explained he was referring to 'THE mountain' – The Mina La Mejicana. He took us over the computer and talked enthusiastically about the history of the once prosperous Gold mine, and its significance for the people of the area. 'Venga!' (come on!) he said.
We threw (read: delicately placed) our bikes in the back of his truck, along with his son (who threw himself in) and were driven like two ladies of leisure up to the second of nine rusty old cable car stations on the mountain. Rody and his son gave us a tour of all the pulleys, belts and wheels that made up the mechanics of the cable car (the belt was something Gok Wan would have approved of: it was massive), and then helped us find the tiniest bit of gold for ourselves in the piles around the entrance. Lardy dah! Rody and his son then drove back to the restaurant, leaving Faye and I with a glorious and what felt like an entirely non-earned 7km descent from the mine on two wheels. Bliss.
All hail Rody: Tour guide, chef, landlord, father and all round ruddy nice chap.
Track us as we leave Chilecito and spend Christmas day in the WILD here: http://z6z.co/AndesAdventure