Today we went glacier hunting.
I am slumped over the railings on the top floor of the 'Robinson Crusoe'. The boat is rolling from side to side, causing me to brace my legs against the slippery white deck. My stomach feels like a washing machine set to spin mode. Bile is mixing with this morning's breakfast of eggs, cheese, bacon and orange juice. Each sideways lurch is mirrored in my stomach as the contents slosh back and forth.
I change tact and try to concentrate on my breathing. Inhale. Exhale. I focus on the feeling of the cold wind across the back of my neck and over my bare hands, but it's no use. Peeling open my eyes, I lift my head to see if looking at the horizon will help. A wave of nausea soon hits the back of my throat, and so I quickly stuff my head back down between my arms. I swear that I am going to vomit any second now
'Why, oh why, did you agree to come on this sodding boat, Anna?' I ask myself. 'You know you ALWAYS get sea sick.'
Taking this boat ride was billed as a once in a lifetime opportunity, and in reality that's true. Faye and I left the ferry port at Villa O'Higgins at 8.30am that morning and chatted merrily away with our new friends Meg and Gordon on the 3 hour ride to the tiny port of Candelario Mansilla. Once we make it there, Meg and Gordon plan to disembark and Faye and I will carry on for another 4 hours to make a return trip to the O'Higgins glacier.
The first portion of the ferry ride goes well – the gigantic Lago O'Higgins is calm enough and I escape any signs of nausea. After pulling into the dock, I am a little nervous when I look up to catch sight of my beloved Bernard being man-handled by a burly sailor type and passed onto the dock, but I am assured by all those around me that this is normal. Passengers doing the glacier tour must leave their bags (and bikes) on the shore while they go off sightseeing. Still, I leap off the boat, lock the bikes and gather up any valuables, just in case.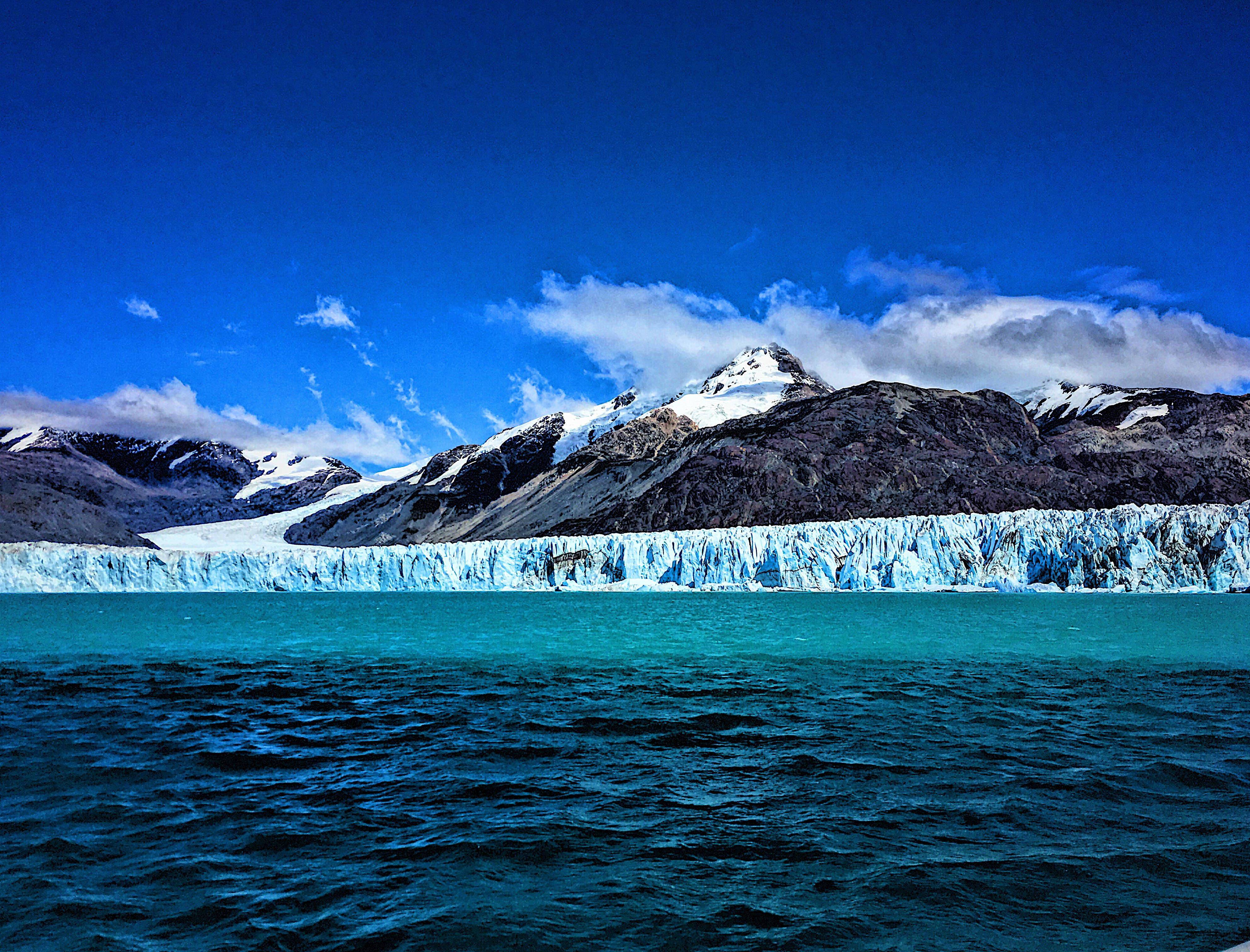 Shortly after pulling away from Mansilla and now heading in a westerly direction across the lake, the first round of chunder-roloutte begins.
'Mate… you look a bit white' Faye says as I scramble to gather up some warm clothes and head outside to the top deck. I do however, manage to just about deep-breathe my way through the sea-sickness and after forty-five minutes the water returns to a glass-like state.
We are sharing the boat with a large group of French tourists and the excitement begins reach fever pitch as we edge ever-closer to the glacier. The sense of anticipation is aided in part by our very enthusiastic captain, who has elected to give us an X-Factor style countdown, which includes information on precisely how many kilometres until 'glacier impact':
'Veinticinco kilometres!' he booms over the loud speaker. 'Veinte kilometres!… Pasajeros, quince kilometres!!'
Faye and I move down to the bottom deck to get a better view of the action. In the water around us, large chunks of floating ice have started to appear. 'Iceberg!!!!' Faye yells, much to the amusement of the surrounding crowd.
We conclude that the Frenchies are on some kind of photography tour as each of them seems to be equipped with long lensed, expensive camera. I have left my camera on the shore in my bag and so Faye and I look suitably amateur as we jostle among the group for position, armed with only our iPhones as photography tools. Naturally, we crack a few jokes under our breath about who is boasting the longest 'lens', and set ourselves apart by trying to photo-bomb other's shots where possible.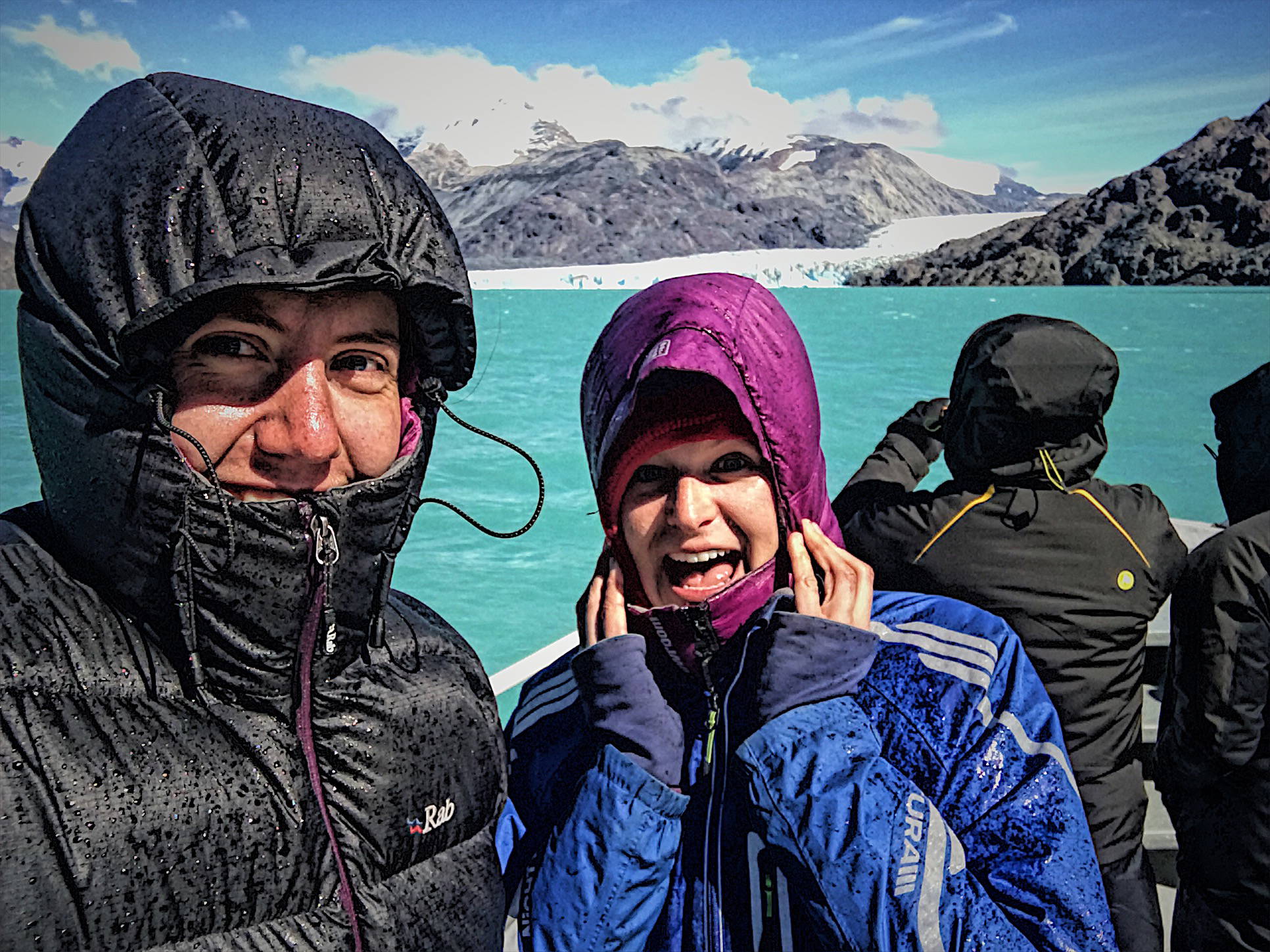 'What is that?!' I shout at Faye, pointing over to a huge chunk of ice off the left hand side of the ship. Slender tentacles of ice reach out from the centre of the shape as if they are hands grasping for the shore. There are swirls of royal blue and white in almost perfect spirals towards the back of the structure, leading into a neat little nubbin that resembles a cinnamon bun.
As we move past the iceberg, new aspects of the shape are revealed, and new shades of colour too. I announce to Faye that it looks more like a Mardi Gras float than an iceberg – I am transfixed by it's beauty. There is something so untamed about a shape as random an asymmetric as this iceberg. Waves from the lake slap against its sides, and I wonder how long before it changes form entirely once again.
We mess around for the next 30 minutes on deck, enjoying being splashed by icy waves at intervals and pulling on more and more clothing as the temperature begins to plummet. At last we arrive at the main attraction. The captain cuts the engine and the air is filled with a welcome silence. The crowd falls silent too, so that we can all hear the creaks and groans emitted by the mighty wall of ice in front of us. I resist the urge to break the silence by bursting into song about the White Cliffs of Dover, but this is precisely what the glacier reminds me of – one end of it at least. The other end is much less of a solid wall and more like a bleached pile of Kryptonite crystals. Huge columns of ice shoot upwards, some stuck together, and others entirely alone in their skyward mission.
Out of the corner of my eye I catch sight of an Orange rubber dingy pulling away from the boat. Three men clad in t-shirts and matching bright orange life jackets zoom off into the distance. We've heard a rumour that later on we'll be served whisky over a block of pure glacier ice, and I assume that this dingy mission is part of the process. Given that the only other thing served on this 7 hour trip was a single coconut biscuit at 10am, I am a little perplexed by the crew's slightly off-centre choice of daily nutrition.
'Ooooh look at them go!' says Faye. The other passengers now notice the dingy too and begin to chatter excitedly among themselves.
'I reckon it's all for show you know…' I say with a look in my eye, and Faye catches on.
'Yeah, I bet they just whizz out there, fanny around a bit next to the ice, come back and get a few bags of ice out of the freezer, which they bought at the local supermarket.'
'That's exactly what they do.' I retort, grinning. 'Silly tourists.'
The dingys return and the engine kicks into life again. We are handed our tumblers of whisky on glacier ice (most of which ends up in the lake because I really do hate whisky). The boat turns around, I go back through the 'vomit-zone' in the middle of the lake and at 5pm we are back on dry land at Candelario Mansilla. Our bike and bags are thankfully patiently waiting for us and so we load them up and prepare for a late evening pedal across the Chilean border, and into Argentina.