"It's a dangerous business, Frodo, going out your door. You step onto the road, and if you don't keep your feet, there's no knowing where you might be swept off to."
Gandalf the Grey wasn't messing when he laid down those words to our man Frodo at the shire. Sometimes there is no knowing where you might be swept off to. And I'm here to officially declare that's half the fun. Or I hope to goodness it is.
Phase I – Europe calling
Travel and adventure can be a tricky business. Planning leads to procrastination, procrastination to wavers in confidence, to delayed plans and life contorting itself into a sticky spiders web of reasons why we shouldn't just pack up and go. Before you know it, it's ten years down the line and you're still saying 'I've always wanted to… [insert fabulous location]'. I too am guilty of such a heinous crime. The victim? Europe.
While In Kiwi-land (also know as New Zealand), the Kiwis would wax lyrical about Europe. About its cobbled squares, historic churches, pristine lakes and vast mountains. (Please note here that Kiwis don't just visit Europe they 'DO' it, mostly on the 'Big OE'). In one fail swoop friends from the Southern Hemisphere seem to have glided though every country that's ever taken the stage at a Eurovision Song contest.
In stark contrast, I find myself stuck firmly on nil-point. Beyond summers spent in every possible French Eurocamp site and the odd city break, I haven't 'seen' the continent at all. And while I've always maintained that this was because I was 'saving it for when I was old and could't get very far' – that now seems a little silly.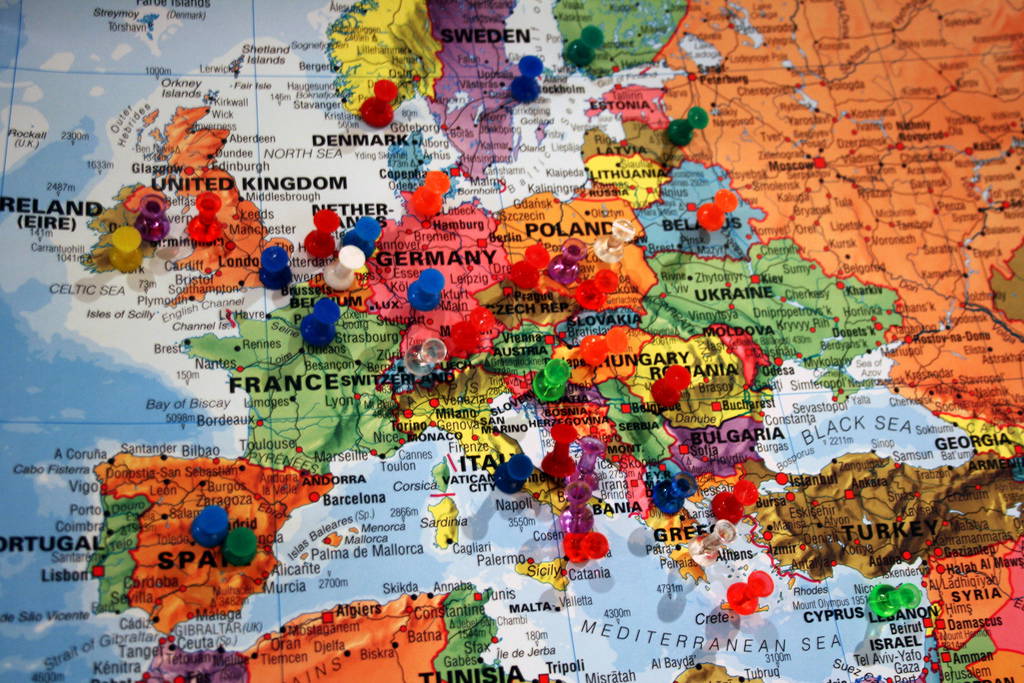 Phase II – Overwhelmed by choice
Europe is gigantic. And as I began to plan a month long adventure to scratch a nasty case of the adventure itch – I found myself overwhelmed by the sheer number of options. Should I sashay with Serbia? Tango with Turkey? Rumba with Romania? Or perhaps just Moonwalk my way through Moldova.  And then I thought: sod this. How about I start it right here. From the place where all adventures begin – my humble abode. 
Phase IV (I never liked III) – The plan
So. Here's the plan. On February the 15th 2016, just under one month from now, I will, armed with not much more than a bivvy bag, a backpack and a devil-may-care attitude, scramble out of the gate in my London back garden. I will then begin to walk to a ferry port on the South coast. Which port I head to will be decided by you. At said port (to be decided by you) I will then get on a ferry. The ferry that I board will be, wait for it, decided by you. And the direction I start walking in when I get off of that ferry on the other side will be… (can you guess yet?) decided by you.
Yes folks – this is an unplanned, unstructured, social media driven, flying-by-the-seat-of-my-pants adventure. Because beyond my back gate is the world, and it's a damn shame not to explore it at every opportunity. Me-oh-my how I'm excited and scared all at once. When the finish line gong goes on March the 13th – wherever in the world I find myself, whatever I'm doing – I'll catch a flight home from there. Simples.
What are the rules?
Why is everyone so obsessed with rules?! But okay – let's set some. I'm not a millionaire. I'm not even a tenner-en-aire (this is totally a thing) so here's some rules to keep me within budget:
Big flights are out, ferries are in. 

The journey will be 90% human powered – mostly walking. One finds that one can really get into the nooks and crannies of a place when one goes walkabout.

There will be a tad of hitching. I like the idea of sticking out my thumb and going wherever the next truck is going. 

If I manage to end up somewhere there is a camel – I'm riding that thing as far as I can.
Where could I end up?
By my reckoning, with walking and a bit of hitching thrown in, I could end up in Greece, Bulgaria, Romania, Moldova, Italy, Scandinavia…. I could even make it as far as Istanbul or even Morocco. Then again, this trip is less about distance and more about exploration, so I could also end up wandering around in France, Spain or Germany for a month. Oh the possibilities – gosh it's exciting, isn't it?!
Some FAQs
What are you playing at, Anna – shouldn't you get a real job?: What is a real job anyway? This is my job. Well. I'm making my passion my job. And my passion is to go adventuring and share my adventuring with all of you along the way. No one's paying me much for this job yet, but one day, they will. Even if it's in kindness and chocolate, that much I know. 
This isn't really 'stepping out of your comfort zone, Anna': Dear goodness, have you seen me plan? I am a planner, not so much that I worry about what might go wrong, I plan so that I can get get excited about what will be AMAZING!!! So this is entirely out of my comfort zone. I have no idea which parts will amazing, and which will not. It's really très uncomfortable. 
What are you trying to achieve?: To live each day as it comes. To do something a little ridiculous simply because I want to see what happens when I do. 
Aren't you scared that you'll get attacked / mugged: Not in the slightest. Stop watching the news. The world is full of kind people, dotted with the odd one who've lost their way. 
Are you going alone? No one is doing the full shebang with me, but I have a few adventurous females lined up to join me for the start, and another couple who might drop in midway through. If anyone would like to join in for the first few days walk from London to a ferry port – man, woman, baby or granny – you are more than welcome. Drop me a line.
It's February: Aren't you going to be cold? Probably. Best pack the Long Johns. And hope you lot don't send me to Scandinavia.
Calling teachers and schools
My trips are always, always (always) trying to do more to get the next generation out there and exploring. So if you're a school teacher in charge of a bunch of adventurous kidlets, I'd love you to get in touch. Especially if they're of a responsible Facebook age and can get fully involved. I'm looking for 5 schools to follow the journey, to help make some of the decisions along the way and to have a few Skype calls with me before and after. If this is something you think your bunch might enjoy – drop me a hello: anna@annamcnuff.com
Well that's it for now. I'm sure I'll scribble more nearer the off. T-minus 27 days until departure. This could be one of the best or worst idea's I've had yet. There's only one way to find out….
Big love,
McNuff out xxx