At first I'd planned to use the 2013 Easter break to bike the length of the Thames, from the source in Cirencester to Southend on Sea. Unfortunately (and not for the first time) National rail had scuppered one of life's great adventures by selecting this weekend to cancel Westbound trains. Enter plan B: The South Downs Way:
" If you are interested in great views, attractive wildlife, visible prehistory, fine pubs and pretty villages, or if you just fancy a challenge, the South Downs Way awaits you. "
Marvellous. Although 'visable preshistory' sounded more like something from Embarrassing Bodies than the English countryside – the pubs, views, and the challenge, that was right up my street. Plus if the Downs were 'awaiting' me – it'd be plain rude not to turn up. So I broke the plan B news to Lydia – my partner in crime for the weekend.
A first foray into Mountain biking
I hadn't been on a proper MTB since I was 13. Not necessarily a problem, but Lydia and I share an affliction. That is, we believe we can do anything someone else can, if we just… try. So Upon reading that 'experienced mountain bikers can do the 100 mile trail in 2 days" we translated this into "2 semi-fit girls, who can't really mountain bike, but can sort of ride other things can do the 100 mile trail in 2 days". Sensible.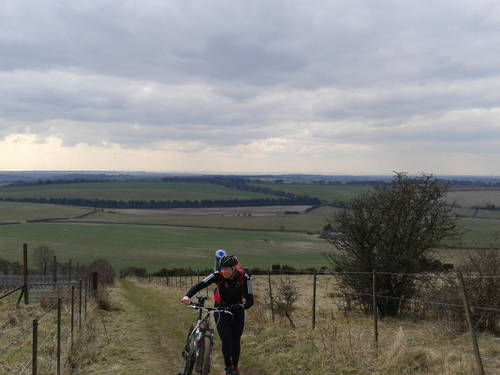 Here are a few lessons from first time mountain biking:
You need a mountain bike, because you feel, quite often, like you are going up a mountain. Even if when you take a picture of said mountain, it looks like Telly Tubby Hill – that thing that you just had to push your bike up? That, my friend, was a mountain.
The Granny cog is there for a reason – use it. Don't be a hero. On a mountain bike, spinning is winning.
Mud is more fun than tarmac. It is just is, don't fight me on this one roadies.
Disc brakes are useful when you can no longer see your wheels.
Don't take your hand off the handlebars to unlock your front fork suspension mid descent – you will fall off.
Mudguards are there to guard you from the mud, you should probably get some. That or accept that when careering down a hill with your mouth wide open like an overexcited Goldfish, a clump of mud will flick up, hit you in the roof of the mouth and bounce out again, leaving behind just a feint coating of sheep faeces.
When you cycle for 9 hours on a mountain bike, sometimes, just sometimes you only make it 33 miles.
Does my bum look big in this fence?
The Bivvy Baptism
Mountain biking wasn't the only great first of the trip. I'd been absolutely gagging to sleep in a Bivvy for months by this point. Inspired by Al Humphrey's Microadventure craze sweeping London, I decided it was high time to take the plunge. I did a bit of research and bought a Highlander pro-force bivvy the week before, tested it out by sleeping on the flat, walled roof outside my bedroom one night (FYI – this is what all sane people do midweek), and after some minor adjustments – I was golden to take it into the field.
A Bivvy-tastic morning
Here's some lessons from a Bivvy rookie:
Find a good pub nearby – Being full to the brim with stew, dumplings, and sponge pudding (courtesy of the Unicorn inn) will help you drift off into the land of nod.
Take care not to over hydrate. Whiskey Mac's are great to warm the cockles of your heart, but don't get carried away and have a Pint of lager shandy 30 minutes before bedtime. You will have to emerge from your self-heated cocoon and pee in a cold field at 3am.
Looking up at the stars in the countryside never gets old.
If you wear 5 thermals, a gilet, 2 pairs of socks, 3 sets of bottoms, a big hat and clamber into a 4 seasons sleeping bag – you too can be toasty warm in a field in Heyshott.
The morning after sleeping in a Bivvy, when your friend asks "Would you like one of my emergency Toffee Crisps for breakfast?" The answer is always yes.
The light of the moon is seriously bright when it's almost a full one. It's now clear to me how the Gay Baboon (of Animals Fair fame) combed his Auburn hair in such luminosity .
Unless you want to wake up and chisel your way into your cycling shoes, you should probably put them and most other items in the bottom of your bivvy.
And that's about it. Actually – there was one final first…
The first long walk home.
Unfortunately the frosty weather seemed to upset Lydia's bike and within a pedal stroke on Sunday morning, her rear cassette gave up the ghost. We began a 12 mile walk to the nearest train station, which actually turned out to be one of the most enjoyable parts of the whole South Downs extravaganza. The air was crisp, there wasn't a soul to be found and the sun was beaming down for the first time in months. It was an incredible day to be out and about so early.
At  2pm I arrived home. Knackered and smelly, having embarked on and engaged willingly in a complete shambles. One which had strayed so wonderfully off piste from first intentions that it was barely recognisable as a microadventure. It wasn't the first time that had happened, and I'm delighted to say it won't be the last. Bring on the next batch of firsts…